Furnace Repair Guide
A healthy and comfortable home environment requires an efficient and reliable heating system. As most homeowners and business owners know, regular maintenance from HVAC professionals is vital to keeping our property's furnace in top condition.
Unfortunately, even a well-maintained furnace can still break down occasionally. Though our furnace system hasn't stopped working entirely, there are some early warning signs to look for that can show that something's wrong.
Having repairs sooner rather than later can save us the trouble of going without a working heater and possibly cutting the cost of the repair job.
Need furnace repairs for your home? Read more.
Here are some of the warning signs to look for that our furnace needs repairing:
1. Increased Heating Bills
A high electric bill is often a sign that our heating system is not operating at its highest efficiency. Heaters often lose their effectiveness as they age and if they are not well maintained. As a result, our system may run longer to provide the same amount of heat, causing your electric bills to go up.
If you need a professional to assist you with any heater repair, our HVAC technicians have the equipment and knowledge to find the problem and advise you on the next steps.
2. The Thermostat Stops Working
A sure sign we need a furnace repair is when we have to keep turning up the heat, and it doesn't seem to be making much of a difference. Regardless of whether this malfunction is due to electrical issues or loose wiring, call a trained HVAC technician to fix a broken thermostat as soon as possible.
3. Yellow Flame
When a furnace is working correctly, it will distribute a blue flame. When it changes to yellow, it is a warning sign that your system can be leaking carbon monoxide, which is very dangerous to those who inhale it. Getting an expert to examine our unit will eliminate any further danger and damage.
4. Strange Noises
A strange noise from our furnace is one of the most prominent red flags our system needs repairing. If you heard any banging, popping, humming, or screeching, this could be a warning sign that you may need to replace your unit or some parts of it.
The reason for some of these noises could be:
Popping: This sound can happen when parts inside our furnace respond to temperatures changes within our system.
Rattling: Unsecured ductwork, loose sheet metal, or screws can be the cause of this sound. It may also suggest that the blower motor is not correctly balanced.
Humming: The unit's fan motor may produce electrical humming sounds, but the fan should never be loud or disruptive. If it is, the inducer motor or blower fan motor could be starting to fail.
Screeching or Squealing: This is a sign that there is an overall issue with our blower motor or inducer motor. Possible problems could be a loose bearing, a deteriorating belt, or a problem with the pulley that holds the belt.
5. Gas Smells
Old furnaces have a high risk of developing cracks in the heat exchanger inside our furnace. If we can smell gas leaking, it's imperative to quickly shut down our system and call a professional HVAC technician.
6. Dusty or Dry House
If our furnace is not functioning correctly, we might notice an increase in dust and dry air inside our home. Avoid this furnace malfunction that can cause asthma, allergies, and other health problems by having an expert check our furnace and repair it if needed.
7. Furnace is more than 15 years old
The average life expectancy of a heating system is within 16 and 20 years. If your furnace system is close to this age or older and you have a repair costing more than 15% of a new furnace, consider replacing it with a new one because it is more likely to fail again soon.
Generally speaking, remember that no matter the furnace's age, if the cost of repair is 50% or more expensive than a new furnace, we should replace it. We always need furnace repairs, and there are a lot of companies that can service your appliance.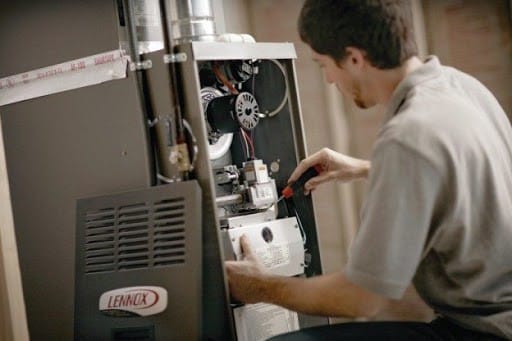 Need Furnace Repairs? Call Us Now at +1 (541) 420 8888.
Expert Repair for All Your Heating Needs
Ensuring that your furnace is in excellent working condition before the cold winter starts will prevent unnecessary furnace repair. Routine maintenance is essential for your furnace to work at its highest efficiency and lengthen its life.
If your HVAC system needs servicing or you require furnace repairs, it's best to call Einstein Pros Plumbing, Heating, and Cooling. We provide plumbing, heating & cooling, water heater, and sewer & mainline services throughout Oregon, Washington, and Nevada.
For more information about our expert services, contact our team today by email at [email protected]. Need furnace repairs? We're the smart choice.
Treat your furnace right and hire a licensed and qualified technician to repair your furnace when it starts to give warning signs of a struggle. You won't regret it when you get an extra few years from your heater.