Einstein Pros provides residential and commercial plumbing and HVAC services throughout Oregon, Washington and Nevada.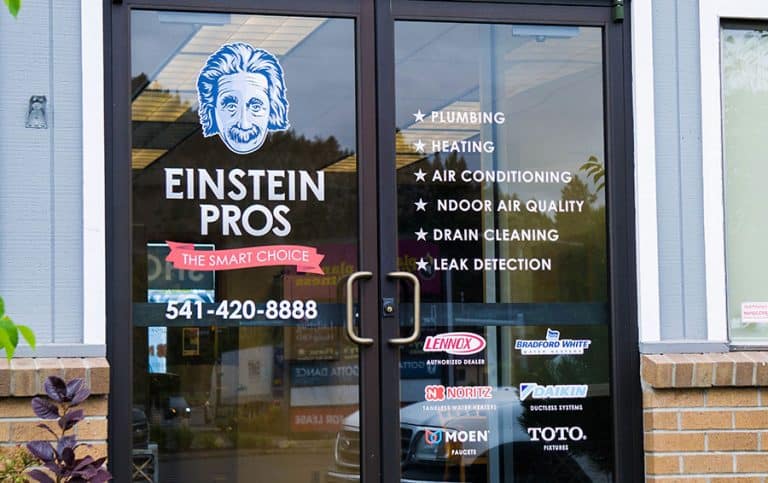 About Einstein Pros | The Smart Choice in Oregon, Idaho, Washington, and Nevada
About Einstein Pros is a full-service company providing residential and commercial plumbing, heating, cooling and electric services throughout Oregon, Idaho, Washington and Nevada. Our company is locally owned and operated, and has been serving customers for more than 24 years.
We utilize industry leading technology to provide exceptional plumbing and HVAC services to our customers. From scheduling an appointment to getting a visit from our service technicians, we will make sure that your experience with us is worry-free and outstanding. 
We're able to track all our journeyman plumbers and HVAC experts to make sure that they will arrive to your appointment on time.
We provide upfront, flat rate pricing during our visit, giving you competitive and affordable options. Our priority is to solve all your plumbing, heating, cooling, and electric issues efficiently and professionally.
Our passion in plumbing and HVAC has kept us at the cutting edge of this industry.  Whether it is commercial or residential construction, new construction, we are equipped to assist in the design, engineering, and cost saving value options of your project.
Plumbing service is how this company came to be, and today Einstein Pros is available in Oregon, Washington, and Nevada, and soon all across the United States and Canada, providing quality plumbing and HVAC for all your service needs. 
Our licensed technicians always takes extra care while working inside your home. They're trained to find the best solution for all your plumbing, heating, and cooling problem. We also work closely with various plumbing suppliers in our area, and can provide you with any plumbing or HVAC tools, fixtures, appliance you require.
Plumbing Parts and Fixtures
Einstein Pros also carries a full line of quality replacement parts, fixtures, and products. We offer and carry a full line of residential and commercial top grade fixtures, if you need a water heater or faucets, we have it for you. Here are some of the brands that we carry and service: Kohler / Moen / Price Pfister /  Rheem-Rudd / Rinnai / TotoBosch / Delta / Elkay InSinkErator / Whirlawa
Why Call Einstein Pros For Your Plumbing and HVAC Needs?
Do you have a plumbing, heating or cooling system issue, and you don't know how to solve it? Most of these problems require licensed and skilled HVAC and plumbing knowledge. Whether you are having issues with a water heater, a water leak, a clogged drain or an air conditioner unit, you can get help from one of our expert technicians. Consider Einstein Pros as the right service for all your plumbing and heating needs.
Join Our Family 
You'll have access to the latest technology in plumbing and HVAC services with  high quality equipment, new service vehicles, and top grade parts. We're here to help you get through the toughest jobs faster and better.
Family Oriented.
Never miss DATE .NIGHT or a parent teacher conference again.
2-Weeks Paid Time Off.
New service vehicles and top grade stock.
New tablets provided.
Personal field coaching and training for success!
Medical, Dental, Vision & 401K.
The Importance of Getting Professional Plumbing and HVAC Services
We understand that it must be frustrating to do plumbing or HVAC repairs and installations at your home or business by yourself, and at times can also be tempting.
It's important to know that by attempting to service your own tankless water heater or leaky faucets, it may lead to further damage or problems.
Our plumbers and HVAC technicians are ready to take care of you, they're knowledgeable, trained, and skilled to help you achieve the best solution for your home or business plumbing or HVAC issue.
Einstein Pros aims to deliver worry-free and peace of mind with all of the jobs we do, no matter how big or small of a project.
About Einstein Pros.

24 Years in the Plumbing Industry
We are dedicated to providing plumbing, heating, cooling, and electric services that's lasting, courteous, and reliable. 
In choosing Einstein Pros, you are selecting a company that has your very best interest in mind. 
We have been serving our customers since 1995, and has the knowledge and experience to solve even the most difficult plumbing and HVAC issues. We are licensed, bonded and insured, giving our customers peace of mind whenever we service their homes or business. 
Locally Owned and Family Oriented Company
Einstein Pros is a family oriented company. We take care of our technicians and their family so they can take care of our clients. We provide personal field coaching and training to all of our plumbers, technicians and dispatchers. Our main priority is to provide the highest level of service to all of our clients, and we know that our people are always ready to serve you.
Skilled, Trained, & Reliable Technicians
We live where we work, so we are completely invested in our community and our neighbors we serve. Our plumbers and HVAC technicians are experienced, skilled, and trained. Our specialists is capable in solving any plumbing issues from drain cleaning to tankless water heater installation and repair.
We're committed in giving you the best service experience.
Everything you need from installation of a new water heater, a toilet replacement, drain repair or heat pump repair services.
Home and business plumbing and HVAC financing to fit your needs.
Now offering 100% financing options for those who qualify.
"The Smart Choice when you need plumbers and HVAC technicians."