Did you just jump in the shower and there's no hot water? Or maybe you tried washing some dishes or that next load of laundry – but all that flowed out was cold water. At Einstein Pros – we're here to help!
Follow our easy guide to quickly help find the solution to get your hot water back up and running!
If you have a gas water heater, the first place you'll want to check when you have no hot water is the pilot light on your water heater. Check the pilot light to see if the flame went out. If that's the case, you'll need to read into your water heater's manufacturer to relight the pilot light. If you can't find the pilot light, have trouble, or don't have one – feel free to give our team at Einstein Pros a call and we'll be happy to walk you through the process.
If your pilot light won't light or stay lit, it's possible that your gas valve has been closed. For gas water heaters, a leak in the gas line may be the cause. If a leak is persistent, a foul odor may be present or there could be no smell. Either way, you'll want to turn off your gas valve right away. A gas leak is a major red flag to alert a licensed professional to assist.
If you smell gas, please be sure to immediately turn off the gas valve control. Natural gas can produce a foul odor similar to rotten eggs or no odor at all. If you're unsure of a gas leak, we recommend calling your local gas company ASAP to come out and double-check just to be sure you're not in danger.
If you have an electric water heater, the first place you'll want to check when you have no hot water is your breaker for a tripped circuit. To check for a tripped circuit, you'll want to go to your electrical panel and reset the breaker.
If you reset the breaker in your electrical panel and the problem continues to persist, you may have an electrical problem.
If you don't already – a best practice, we recommend is to keep your electric water heater on its own breaker to ensure the best overall performance.
Another thing you'll want to check with an electric water heater if you have no hot water is the high-temperature cutoff switch. You can quickly nip your issue in the bud by pushing the switch. When you push it, you should hear a clicking sound and the power will come back on to the hot water heater. If pushing the switch doesn't return the hot water, it's likely that the switch is damaged and should be replaced.
Whether you have an electric or gas water heater; age should also be kept in mind. On average, a water heater will last about 10 years. If your water heater is beginning to come close to this age, it's a good idea to schedule one of our licensed professionals to come out and take a look at the heating elements.
Over time, heating elements will begin to deteriorate. Replacing these elements is usually an inexpensive fix. If you determine this is what you need to do, you will want to make sure you completely turn off your water heater.
Another factor to consider when you don't have hot water is that your hot water heater can't keep up with the demand for hot water. In this scenario, there most likely isn't anything wrong with your heater other than it can't keep up with the needs of your home.
In this case, give your hot water heater a few hours to recirculate and heat some new water as you'll be left with cold water until it can reset. If the water returns after a few hours but the problem continues to persist, you may want to consider limiting your hot water usage or upgrading to a larger water heater to meet the needs of your household. Call us or schedule an estimate online if you're interested in seeing which heater we recommend to be best suited for your home.
If a few hours have passed and the lack of hot water continues to persist, we suggest calling one of our licensed technicians to come out and take a look to see if there is a more serious underlying problem.
Be sure to check the compartments on your water heater to ensure they have not flooded. A flooded water compartment may cause serious threats if it gets into the thermostat. Another thing to look out for is any water leaks; a leak may be the primary reason you're not receiving any hot water in your home.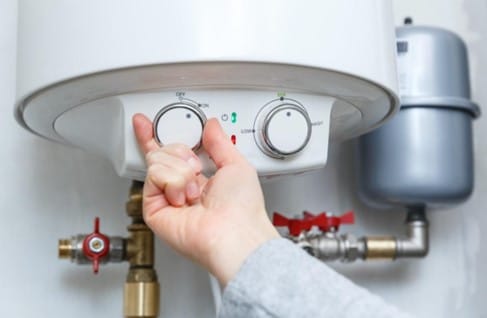 With no hot water, another good thing to look at on your water heater is the thermostat. The upper thermostat controls the lower and upper heating elements of an electric water heater. The lower thermostat helps with sensing changes in heat and uses the lower heating element to heat the incoming cold water. If you use all your hot water, the upper thermostat will demand heat and withdraw power from the bottom of the tank. Both thermostats play an integral part with one another in order to get hot water into your home. Therefore, if the lower thermostat becomes damaged – your hot water will not get hot enough.
If you live in colder climates, try turning the water heater to the maximum temperature until the hot water comes back. This process can usually take 30 minutes to an hour to reheat all the water channels throughout your home. In colder climates, no hot water can occur when you leave your heater sitting unused overnight. Resetting it to the maximum temperature should get your hot water heater back up to speed!
If turning up the temperature on your hot water heater fixes the issue, you may want to consider keeping it at a higher temperature than what it was previously until the outside temperatures begin to rise again.
All in all, nobody likes taking a cold shower. A loss of hot water can happen for a multitude of reasons. We hope this guide helps you troubleshoot a few areas of what to do when you have no hot water.
If you're still experiencing issues, please do not hesitate to contact Einstein Pros. Our team will always take the extra mile to go above and beyond when addressing your needs.