Got something wrong with your hot water heater? Or if you'd like to learn more about maintaining a healthy hot water heater system – We're here to help!
Let's review a few things that are good to be on the lookout for to prevent any major problems from occurring.
Some of the Most Common Water Heater Problems Include:
No Hot Water or Not Enough Hot Water
The Water is Colored or Rusted
Rotten Smelling Hot Water
Leaking Water
Low Water Heater Pressure
Water Temperature Too Hot or Cold
Lukewarm Water or Amount Inefficient
If you're experiencing one of these water heater problems; it's a good idea to dive a bit deeper into what this could indicate about your hot water heater.
No Hot Water or Not Enough Water
Broken or malfunctioning heating elements.
Incorrect thermostat setting or broken thermostat. It's also possible that there could be an issue with limit/reset switch on the thermostat. The switch can be triggered by water that is extremely hot or it failed due to the thermostat being damaged.
A blown fuse or a faulty circuit breaker. Be sure to check your circuit breaker box.
The Water Is Colored or Rusted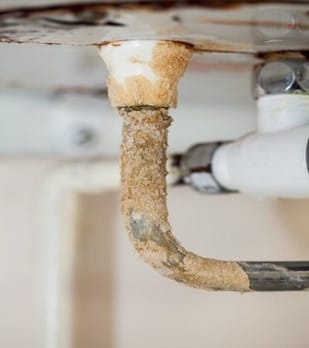 Colored or rusted water can indicate that the sacrificial anode rod has gone faulty which causes rusting to occur in the tank.
Excessive corrosion inside the tank can also lead to colored water.
Rotten Smelling Hot Water
Stinky or rotten hot water could indicate bacteria has built up inside of the hot water heater tank.
Homes that use well water as their primary source are more likely to have a rotten smell.
Leaking Water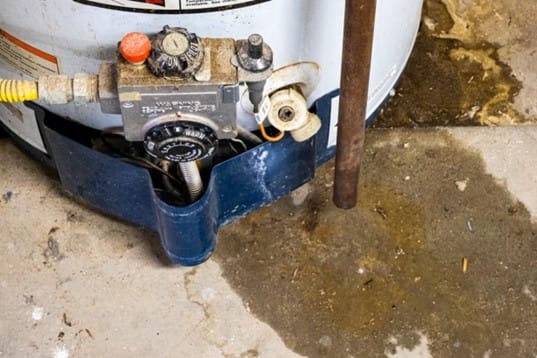 If you have water leaking from the top of the hot water heater tank, this could mean there is excessive pressure inside of the hot water heater tank. This pressure could be due to the T&P valve failing or experiencing overheating if its stuck open. Or the water leak could also be occurring if the inlet valve is leaking.
If you have water leaking from the bottom of the hot water heater tank, this could be normal occurring condensation. However, if it is a consistent problem, it could be stemming from a leaking electric heating element gasket, or the T&P valve is stuck open which releases excessive amounts of pressure in the tank.
Other causes of leaking water include corrosion inside the tank, a leaking heating element due to under or over tightening, or simply a bad plumbing connection.
Low Water Heater Pressure
If you are experiencing lower pressures than anticipated that could indicate rust or corrosion has occurred inside the hot water heater.
It is also possible in older homes that traditional ½ inch pipes were installed. Smaller pipes automatically allows a limited flow of water. When installing larger ¾ inch pipes, it allows an increased amount of water to be able to flow through and naturally allow for more pressure from the tank to be received.
Water Temperature Is Too Hot or Too Cold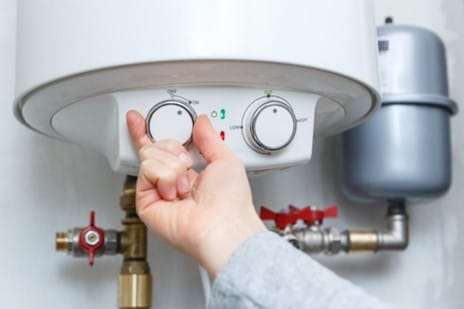 Water temperature too hot or too cold could indicate a faulty thermostat. If the water temperature is too high, its most likely due to the heating element being set too high. This same rule applies for water that it too cold.
If you find your water takes too long to reheat, it's possible that you have a faulty heating element or thermostat that needs to be replaced.
Lukewarm Water or Amount Inefficient
This could indicate your hot water heater is too small for the demand of hot water needed by your home.
Potentially crossed plumbing lines. For example, the hot water line was connected to the cold-water inlet due to improper installation or vice versa.
Damaged upper or lower heating element in the hot water heater.
If you need a water heater repair, be sure to check out our services. We also offer water heater maintenance and installation services. If you have a question about your water heater please feel free to call us or schedule one of our certified technicians to come to your home. You can trust our licensed service experts to repair, replace, install, and maintain all types of gas and electric water heaters.