Tankless Water Heater Install Tacoma Washington
Licensed, Bonded & Insured EINSTPH842B1
We accept the following payments:


Tankless Water Heater Install Tacoma Washington
With over 24 years of experience, we have trained professionals who put their heart and soul in providing top-notch services to customers. Water heaters are an important part in residential homes and commercial buildings. More and more people are moving towards Tankless Water Heaters in Tacoma Washington. A wide range of tankless water heaters are available in the market. Tankless Water Heaters are being popularly used as they provide a number of benefits. For Tankless Water Heater Install, we can help you by providing the best plumber for installation, repair and maintenance services. Our branches are spread all over Oregon, Washington and Nevada and we are expanding our operations all over US.
Einstein Pros




Tacoma

,

WA

98002
(253) 533-9060
Tacoma Washington Customer Review
"Very good experience! I needed a new valve for my toilet and called them. The work was done quickly, everything was done well and I couldn't be more satisfied. Give these guys a try!"

–

Chris D.
The Tankless Water Heater save energy as they heat water only when it is being used. There is no system if continuous heating and no storage of water. There are two types of Tankless Water Heaters. The single point units Tankless Water Heater install close to water source and are affordable and less expensive. If you want to have all water heated at once then you should select Whole house units as they have the capacity of heating all water at once. You can rely on our team for efficient and quick installation of any type of water heater. Whatever type of Tankless Water Heater you purchase, we have the team and the best equipment for installation. Upon calling us, you can leave all your worries on us and wait for the best installation. Your one time investment for installation services can save you from damages in future.
Einstein Pros holds the vision of helping homeowners in improving living spaces by striving to achieve comfort and safety. An effective water heater is the basic need of a healthy lifestyle. Who can survive living with ice-cold water during chilly winters? If you are not familiar with the installation process, you can get help for Tankless Water Heater install. You can call us on our landline number, discuss the problem with our expert and we are on the go on our rolling warehouse. Wherever you are located in Tacoma Washington, we are able to reach you in reasonable time. Our team is sent on our truck which is a rolling warehouse. Call us on number and get service for scheduled or urgent install or repair. Our number is: (253) 533-9060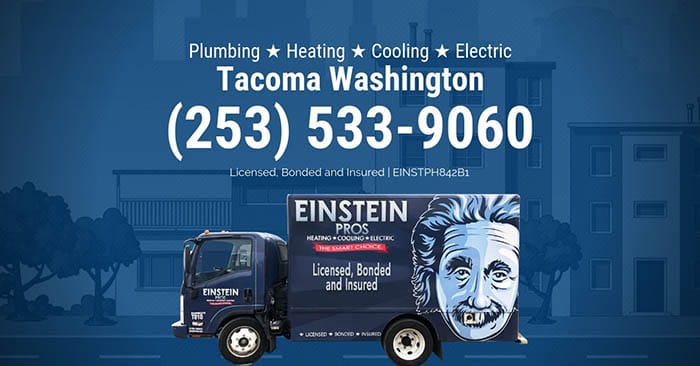 Tankless Water Heater Install Tacoma Washington
We are popular for providing cost-effective solutions for our customers. We aim to keep all our services affordable and less pricey as we hold the vision of improving lifestyles. We strive for our customer's safety, comfort and healthy living. Our bonded and insured plumbers are ready to help you for tankless water heater installation, repair and maintenance services. All our plumbers, HVAC workers and technicians are Drug Tested and Criminal Background Checked. Our customers enjoy peace of mind and a relaxing experience while our team works for you. So call us and have the best plumbing services.
"The Smart Choice when you need plumbing services."