Sisters Clogged Toilet Repair
Licensed, Bonded & Insured CCB#188803
We accept the following payments:


Sisters Oregon Clogged Toilet Repair | Toilet Installation and Replacement Services
Sisters Clogged Toilet Services – One of the most common plumbing issues we encounter are clogged toilets. At Einstein Pros we are offer fast and reliable toilet unclogging services to make sure your toilet is running in good condition.
Many reasons can contribute to a toilet being clogged, most often a simple plunger is useless when it comes to unclogging large blockages. 
Call Einstein Pros today and you can expect prompt service from our trusted and reliable plumbers. We're a licensed, bonded, and insured plumbing service provide in Oregon.
Our plumbing services in Sisters Oregon
Nobody likes dealing with a clogged toilet issue let alone a recurring one. Clogged toilets that drain properly can lead to waste backing up to your bathroom.
Our expert technicians in Einstein Pros will come and inspect your toilet as the clogged toilet could be a sign of a seemingly larger issue such as a clogged pipe. 
Since a clogged toilet can be a messy affair, it may not be time to go about a DIY project as it may result in massive damage to your home. However, you can rely on the plumbers at Pine's Plumbing to unclog your toilet and have it flush properly.
Signs You Need to Replace Your Toilet
Recurring Toilet Clogs – This is the sure sign that you need to replace your toilet. Recurring toilet clogs may be as a result of an older toilet unit among other reasons. While regular repairs may boost it's lifespan, the downside is you will spend a lot of money on repairs that will cost you more than if you decide to replace your toilet with a more efficient and modern toilet.
Older Toilet Unit – When your toilet requires many replacement parts for it to work properly, it may just be time to replace it as that will be more cost effective in the long run.
Cracked Tank or Bowl – Over time, your toilet will most likely develop cracks in the tank as well as the bowl. If a simple fracture is allowed to expand with no repair whatsoever, it may lead to a massive water damage to your home.
Increased Water Bills – An older toilet unit or a leaking toilet that needs multiple flashes may be the cause of your increased water bill. And we all know that no one likes having to deal with an increased bill over something that can be solved.
Whether you need your home toilet replaced for practical or aesthetic reasons, our plumbers at Einstein Pros can help you select and install the right toilet for your home's needs. Our licensed plumbers can oversee the fitting, installation and proper compliance to ensure that the newly installed toilet works efficiently after the replacement.
Is Your Toilet Not Flushing Properly?
While your toilet is not flushing properly, it may be as a result of a loose flusher, in some cases, it may be due to other issues that are unknown to you unless you call your plumber to do an inspection. 
Sludge, grease and large products that are flushed instead of being thrown in the garbage may lead to flushing issues. In addition, tree roots may invade your toilet's sewer line causing it to start malfunctioning.
While plungers typically solve small toilet clog issues, you will need to call a plumber immediately if your toilet has a serious clog issue. 
Besides, if your toilet has signs of wear and tear such as decaying connecting pipes or a cracked porcelain, it may be time to call Einstein Pros and get your toilet replaced.
Einstein Pros Clogged Toilet Repair Services
Because of the frequent use, your toilet experiences the same level of wear and tear as any major appliance that you have in your home. As such, your toilet is susceptible to issues such as continuous running water and loose handles. 
While this may not look like a pressing issue, it can in the long run cost you a huge sum of money due to increased water bills if the issues are not fixed.
Besides having to deal with increased bills, a clogged toilet tends to put a lot of pressure and strain on both your toilet and plumbing system which can lead to a burst pipe. 
However, at Einstein Pros, we can help you save money by providing you with repair services that can help prevent and solve any toilet issues that you may have.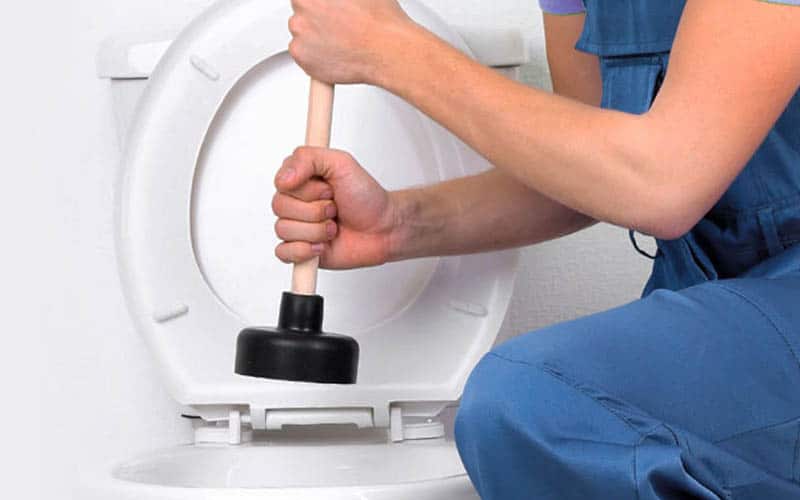 Residential and Commercial Clogged Toilet Repair Services in Sisters Oregon
Toilet clogs are completely preventable. By following these steps you can reduce the number of clogs that may occur in your home or business and keep your toilet running properly.
Do not dispose non-­water soluble items such as diapers, baby wipes and other heavy tissues to the toilet.
Flush twice or even three times if necessary if you are flushing away large items.
Use single ply or thin toilet paper.
Use less toilet paper if possible.
Sisters Oregon and surrounding areas service locations:
The most common toilet problems that we fix include:
Loose handles
Slow water filling tanks
Weak flush
Low water levels
Continuously running water
Low water flows
Phantom flush
If you are looking for a reliable and dependable toilet repair and installation services, we are the company to call.
Commercial Toilet Drain Plumbing Services & Repairs
Do you work in a customer-facing business, like a restaurant or hotel? How about an office building, nursing home or factory? 
No matter where you work, or what type of business you own, you must have working toilets for employees, customers and anyone else to use. Because commercial toilets and urinals are often in these high-traffic buildings, they're used much more than residential toilets are. 
This means they can be subject to more issues, including clogs and other damage, than fixtures in homes.
Einstein Pros




Sisters

,

OR

97759




(541) 420-8888




Monday-Saturday | 7:00 am - 4:00 pm
Sisters Oregon Customer Review
"Very impressed with the follow up service and they solved my problems. They were pleasant and prompt ensuring customer satisfaction with the company!"

–

Johnny W.
"The Smart Choice when you need plumbing services."