Madras Water Filtration Service
Licensed, Bonded & Insured CCB#188803
We accept the following payments:


Madras Water Filtration and Purification Service
Madras Water Filtration Services – A water filtration system is connected to your home or business water supply to reduce potentially harmful impurities and other contaminants that may be found in tap water. Einstein Pros provides expert water filtration and purification system services for residential and commercial properties.
Call us today to get the right diagnostic for your home plumbing needs and to get cleaner water for your tap by adding a water filtration system today.
Need Water Filtration and Purification? Call Einstein Pros Today (541) 420-8888
Einstein Pros




Madras

,

OR

97741
(541) 420-8888
Madras Oregon Customer Review
"Einstein pros did an excellent job fixing my air conditioning. They actually did it within minutes. Trustworthy and very reliable. I highly recommend his business to others!"

–

Mellisa L.
Clean Water For Your Home and Family – Water Filtration and Purification in Madras Oregon
Installing a water filtration system in your home can protect you and your family from impurities and contaminants in tap water, giving you safer water for drinking, bathing, and washing. At Einstein Pros, we offer complete and professional water filtration services in Madras Oregon and throughout the surrounding areas. Whether you would like a new filtration or purification system installed, or need service on your existing filtration system, our plumbing technicians will get the job done.
If you need a Madras water filtration service in your residential or commercial property in Madras Oregon, contact Einstein Pros today, we will provide you with a cost effective solution and expert service.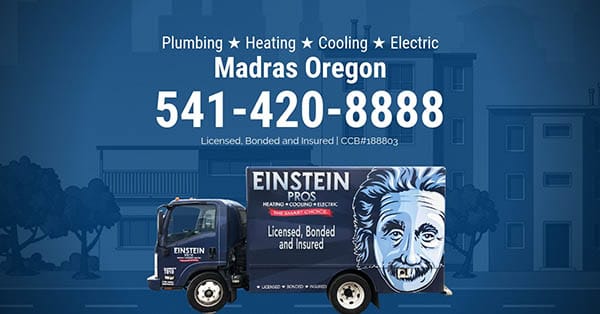 "The Smart Choice when you need plumbing services."