Find a Water Leak as soon as possible when something seems off.  As you walk across a certain area of flooring you notice that your feet or socks become damp.  The carpets in the master bedroom that you just had shampooed still have an odd smell that you can't quite put your finger on. 
The bottom line is that something seems off and your gut tells you there is probably water somewhere in your home somewhere it shouldn't be.  If any of this sounds familiar, you're most likely looking at a leak somewhere inside your wall.  It's vitally important to find the leak as soon as you can, or you risk further internal damage.  Not sure how to go about finding the leak?  We are here to help.
What to look to Find a Water Leak?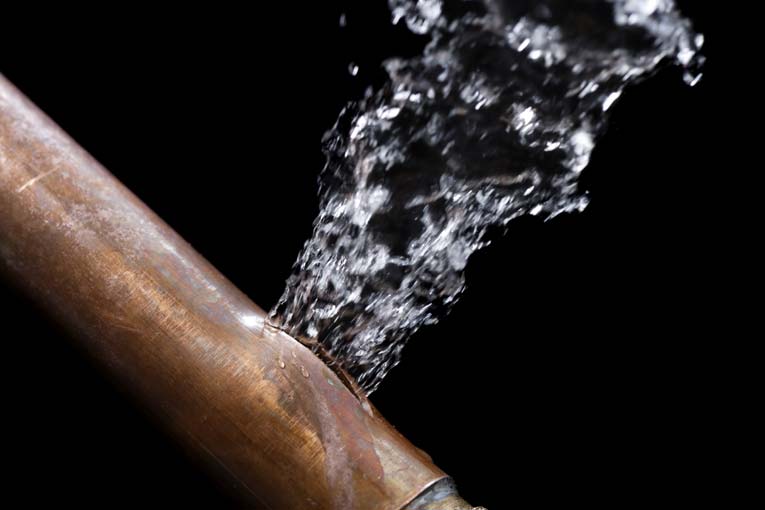 Discoloration
Regardless of how old your paint or wallpaper is, if you notice discoloration in a certain section, it's not a good sign. The surface of the wall will be lighter than the surrounding areas and might even have a funny shape. This is a sure sign you have a leak in your piping somewhere close to the abnormal spot.
Texture
As part of your routine plumbing maintenance, take time to inspect your walls and look for any irregularities in texture. If your walls are painted or covered in wallpaper, any signs of warping or bubbling are good indicators that a water leak is nearby. Leaks behind drywall will begin to sag and form small bubbles. Walls that are severely waterlogged might even start to curve outward which could spell real trouble unless you address the situation quickly.
Moist Spots or Puddles of Water
If you start to notice damp spots in your carpet or puddles of water on your hardwood flooring, take note. These are most likely to occur around major appliances like your washing machine, shower, toilet or dishwasher. If you notice water in the vicinity of these spots, first check to make sure all your piping is secure where it connects to your appliance. If it is, you're likely looking at a leak inside your wall.
Musty Smells
You're probably familiar with that musty of the smell of something that has been wet for a long time. It might not be overpowering but it isn't pleasant. Even if there aren't any outward indicators on your wall or flooring that indicate a leak, the source of a rank odor could be a sign that there is a leak behind your wall.
Mold
Water leaks cause mold over time. In the beginning, mold will appear as a cluster brown or black spots. If left untreated, it will begin to propagate and appear as a dark solid spot near the source of a leak. Mold is a serious problem as it can be toxic and pose a health risk to everyone under your roof. The instant you detect mold, you should call a plumbing professional for an inspection.
Dripping Sounds
Dripping sounds inside your home are never a good sign.  You're especially likely to notice them if you live in a part of the country where the winters are cold and snow and ice are a part of life.  If you don't take the time to properly shovel snow off your roof or around your home during the winter, it's all too easy for ice dams to form. 
As the heat inside your home causes the exterior to thaw, water can leak through your walls and you might start to notice puddles in corners or underneath apexes in your roof where moisture gathers.  If this is the case, you should deal with the problem right away.  The good news is that most homeowner's insurance companies will cover the cost of fixing the issue. 
Foundation Leaks
If you've looked high and low and still can't find the source of an apparent leak inside your home, the next step is to check your foundation walls. These kinds of leaks aren't usually caused by compromised plumbing but rather cracks in the foundation itself. You can address this problem by digging a trench around the affected area and using a sealant to make sure the portion of the foundation below the ground is watertight. Another method is to look internally for any damaged studs and use epoxy to seal off any cracks.
Infrared Camera
If you're certain you have a leak somewhere inside your wall and none of the above methods seem to be working to find the source, it might be worth spending some money on an infrared camera. Infrared cameras will detect areas in the wall that are cooler than elsewhere. If you're unfamiliar with how these cameras work, the warmest spots will be indicated by orange and red coloring while cooler spots where leaks are present show up as purple or blue.
Leaks behind walls need to be taken seriously and detecting them can be tricky.  If you know what signs to look for, however, you can likely locate the problem on your own.  This is the first step in resolving the issue.  Once a leak is located and if you're at all hesitant to try and fix it on your own, be sure to call your local Einstein Pro right away before the problem gets worse.