Water Heater Services Camas Washington
EINSTPH842B1 - LICENSED, BONDED & INSURED​
The Smart Choice in Camas Washington for all Water Heater Services
Water Heater Services in Camas, Washington
Water Heaters are a great investment for your home. A tool that helps make household routines a lot easier and quicker to do.
Since water heaters provide convenience and productivity for many household owners, it has become more of a necessity rather than a luxury to have one.
Water Heater Installation
There is a variety of water heater types, brands, systems, and models available in the market, and deciding on which is perfect for your home can be a hassle. Not only that but installing water heaters is not a trial and error sort of thing. The moment it's there—it's there!
It would be a waste just thinking about replacing the system after a year of installment. Most water heaters can live up to 15 years if taken care of properly. If you want to get the most out of your investment, it is ideal to have a replacement at least after a decade after installing it.
Good installation is often associated with longevity. As such, finding the right person to install your water heater is just as important as maintaining it.
Einstein Pros not only helps you decide which is the perfect water heater for your home, but we also cater to both residential and commercial installation of water heaters.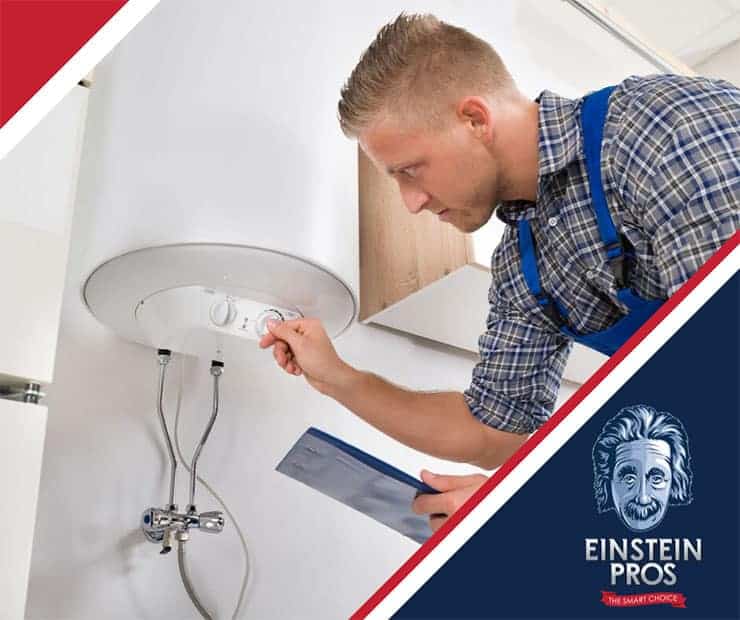 General Repair for Water Heaters
Regular maintenance of water heaters is necessary to avoid minor and disastrous problems; however, even with careful use of water heaters and problems like weak or strong water pressure, leaks, and corrosion still occurs, then it may be time to call in the experts.
It is important to remember that when there is something wrong with your water heater, you should immediately turn off the system. This is to avoid problems from getting bigger as well as a safety precaution for the members of the family.
Water Heater Replacement
There are a number of water heater problems that can easily be fixed with DIY methods, and some that need professional plumbing; however, when problems become recurring, it may be time to say good-bye to the old thing.
Einstein Pros provides quality service for all types of water heater services and solutions in Camas, Washington including water heater installation, repair, and replacement for both commercial and residential problems. Call us now to book an appointment.
Einstein Pros




Camas

,

WA

98607
(360) 768-3030
"Einstein pros is a lifesaver! Called for an emergency plumbing and they resolved the issue with flawless fix. Thank you guys for all of your help and professionalism."

–

Connie B.
"The Smart Choice when you need plumbing services."