Garbage Disposal Services Camas Washington
EINSTPH842B1 - LICENSED, BONDED & INSURED​
The Smart Choice in Camas Washington for all Garbage Disposal Services
Garbage Disposal Services Camas, Washington
Kitchens play a vital role in the daily routine of the household, and for a family that loves to cook, a problematic kitchen can be a hassle. Common kitchen problems like drain leaks, non-functional faucets, and worst of all, a clogged system.
The dilemma with kitchen fixtures is that they are frail to deterioration caused by various chemicals, and sediments from all the waste that pass through it every day.
Most homeowners do not realize the importance of troubleshooting and maintaining kitchen fixtures until they are already facing problems with repairs.
Another thing to take note of its proper installation equals lasting kitchen fixtures. Poor installation of kitchen fixtures, bathroom fixtures, and even garbage disposals always lead to poor performance as well as a hastened decline in durability.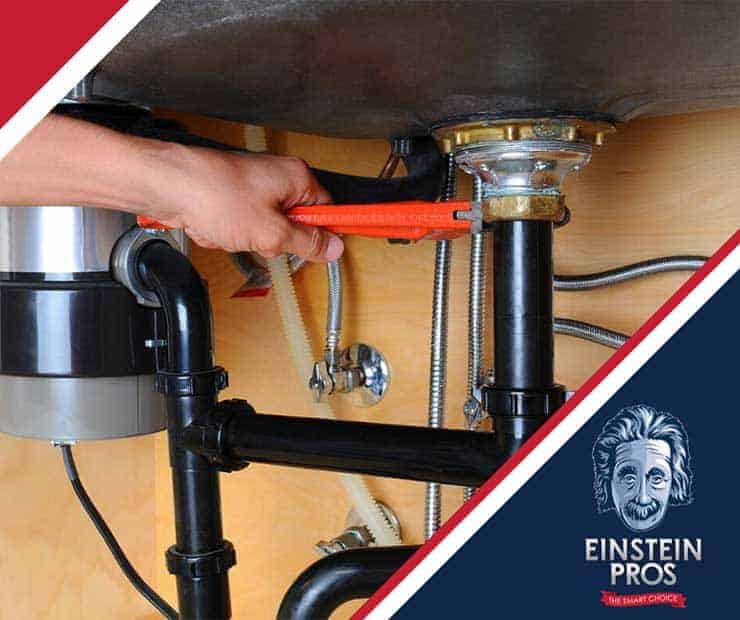 Garbage Disposal Installation in Camas, Washington
Installing a garbage disposal is not only practical, but it also has a lot of advantages such as being eco-friendly, time-efficient, and cost-effective. By shredding food waste into tiny particles, they are doing yourself and your neighbor a favor!
When it comes to installing high-powered garbage disposals, you can trust the team at Einstein Pros! We not only provide guaranteed satisfaction services, but we ensure that the models we install last in the long run, securing a good return of your investment.
Garbage Disposal Repair Services in Camas, Washington
Despite taking good care of your garbage disposal system, and your system persists to have problems, then maybe there is something causing huge damage to your model. While shredders are naturally powerful, not everything should be thrown down the garbage disposal.
Food waste such as bones, eggshells, and coffee grounds tend to make blades brittle and weak.
When experiencing problems like these, it is best to call the pros. Working around sharp objects in the kitchen can be dangerous, and this is no exception.
Einstein Pros provides quality services on all kitchen fixtures including garbage disposals. We can install, repair, and replace new and old models of garbage disposals in Camas, Washington whether residential or commercial. Call us now to book an appointment.
Einstein Pros




Camas

,

WA

98607
(360) 768-3030
"Einstein pros is a lifesaver! Called for an emergency plumbing and they resolved the issue with flawless fix. Thank you guys for all of your help and professionalism."

–

Connie B.
"The Smart Choice when you need plumbing services."